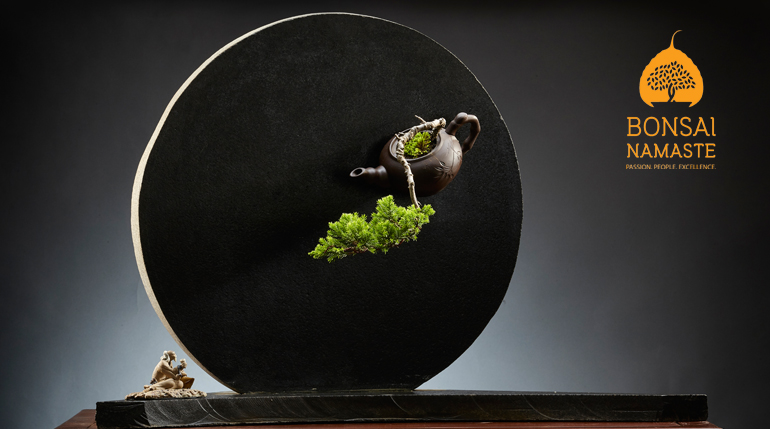 Bonsai is a renowned practice internationally and has been received and rapidly adopted across the world. What originated as Vaman Vruksha Kala in India is known as Bonsai, the art of creating miniature trees. Bonsai has a large international market. In foreign countries, Bonsai is an art recognized even by common people which has led to the creation of dedicated Bonsai gardens in their metro cities and towns. In Russia, despite sub-zero temperatures outside, special nurseries have been created which maintain an optimal temperature for Bonsai growth. Substantial effort and recognition has been given to the art, which has consequently meant there is adequate infrastructure, materials and avenues provided for Bonsai artists. Moreover, there is tremendous opportunity for income in the International Bonsai market.
Mrs. Prajakta Kale, India's renowned Bonsai artist observed all this during her travels around the world. From countries like Japan, China, Taiwan, and Indonesia to European countries, Russia etc., Bonsai art has been recognized and provided for. Unfortunately, India features nowhere on the World Bonsai Map despite being its country of origin.
During every trip abroad, there was a greater realization that despite the tremendous potential, India is nowhere to be found on the international Bonsai platform! This deeply troubled her. Upon her return, she vowed to change this and put India on the World Bonsai Map.
Thus, the idea of India's largest International Bonsai Convention and Exhibition was conceived, way back in 2009.
By now, she had a substantial Bonsai collection of her own (more than 2000 Bonsai trees!). She realized that the first step would be to make Indians aware about this art and remind them of its Indian origins. She along with her fellow Indian Bonsai artists and friends, established Bonsai Namaste. Over the years, they not only organized this convention but also cultivated pre-material for the convention where enthusiasts and students could use these plants to create their own Bonsai. These plants, planted with a vision around a decade ago will be provided to participants today, free-of-cost as pre-material in workshops! Moreover, the convention will showcase the biggest library of books on Bonsai, all carefully curated by her over the years.
The largest attraction, however, is the exhibition of over 1000 exquisite Bonsai trees from her personal collection.
The vision has become a reality today with painstaking efforts and determination over a decade. This platform is the first ever to bring International Bonsai Masters to India and facilitate interactions with Indian students. Providing this kind of access is no easy feat. Moreover, students and staff of Agriculture and Horticulture colleges from Maharashtra will be present at this event as well, and gain tremendous exposure.
What started as a germ of an idea back in 2009 is reality today and on a spectacular scale!
Be sure to witness this event. Everyone is welcome! There are no entry charges. Head to Agriculture College Ground, Pune from 22-25th Feb, 2018. You wouldn't want to miss this one!